Frost Museum brings master painter Rubens to collection
Enero 14, 2011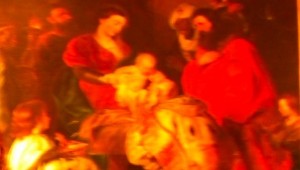 The Patricia and Phillip Frost Art Museum at Florida International University is steadily gaining a world-class collection. It recently acquired a Peter Paul Rubens piece in its repertoire.

The oil painting "Adoration of the Magi" is attributed to Rubens (1577-1640) and fellow Flemish artist Jacob Jordaens (1593-1678). Painted between 1618 and 1619, the painting depicts Virgin Mary presenting baby Jesus to the three kings. Religion was a central theme in much of Rubens' work and this painting was originally an alter piece.

Although the painting is on special loan to the Frost by private collector Natan Saban, it is still an incredible asset for the Museum.

Carol Damian, Director and Chief Curator of The Frost, said, "The Rubens is an outstanding addition to our exhibitions – rare in any part of the world, especially in Florida, where there are only a few great masters on exhibit."

The Frost is offering lectures and educational programs to the public during the fall 2010 season for the Rubens and other pieces of the collection.

"To have this in our museum is an extraordinary gift to all of us and an amazing opportunity to teach about painting, history, religion, and the world of the past – still very relevant to the present because of its beauty and significance," said Damian.

Photo Credit: Alexandra Figueredo

© 2011, ArtistaMundo.com
To contact Alexandra Figueredo, the writer, please email her at alexandra@artistamundo.com.