Private collection of Cuban-American art on display at iconic Freedom Tower
Octubre 5, 2010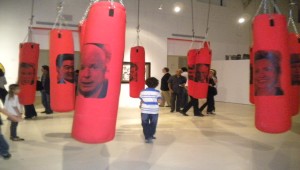 Miami natives Dr. Arturo and Liza Mosquera have a really expensive hobby -- they've been collecting art for more than 20 years. Their passion has led to one of the most extensive private collections of Cuban and Cuban-American contemporary art in South Florida.

On Friday, October 8, Dr. and Mrs. Mosquera will be presenting the exhibition Ways of Worldmaking: Notes on a Passion for Collecting which highlights several works from their collection, at Miami Dade College's Freedom Tower in Miami.

Over 85 works from 70 Cuban-American and Cuban artists will be exhibited, including Cesar Trasobares, Pablo Cano, Baruj Salinas, Arturo Cuenca, Liliam Cuenca, Pedro Vizcaino, Gustavo Acosta, Adriano Buergo, Heriberto Mora, Glexis Novoa and Antuan Rodriguez, among others. There are also important works by artists from the early exile group, many who are now deceased, such as Eduardo Michaelsen, Agustín Fernandez, Rafael Soriano, Guido Llinás and Jorge Camacho.

The exhibition recognizes the collectors' contributions to the arts in South Florida and their support of both established and emerging artists. Over the years they developed relationships with many of these artists, which led to a greater appreciation and understanding of collecting.

Dr. and Mrs. Mosquera began collecting art in 1989. In 2000 they created a quarterly exhibit called "Art @ Work" hosted at Dr. Mosquera's orthodontic offices, which steadily grew in popularity and reputation. They later opened the Farside Gallery adjacent to the orthodontic practice as an alternative art space to feature additional artists.

Collection pieces range from paintings, sculptures, photographs, video and installations. The exhibition is curated by Cristina and Vivian Nosti, a sister team known as DUO NOSTI for professional purposes.

The opening reception is free and open to the public. The exhibition period will run through November 6, during which there will be a series of panel discussions with the collector and many of the artists featured in the exhibition.

Ways of Worldmaking: Notes on a Passion for Collecting
Exhibition Opening Night
Where: Freedom Tower, 600 Biscayne Blvd., Miami, FL 33132
When: Friday, Oct. 8, 2010, 7 pm - 9 pm
Admission: Free

Photo Credit: Alexandra Figueredo

© 2010, ArtistaMundo.com
To contact Alexandra Figueredo, the writer, please email her at alexandra@artistamundo.com.