Embrace the fall while previewing Miami's arts scene
Septiembre 10, 2010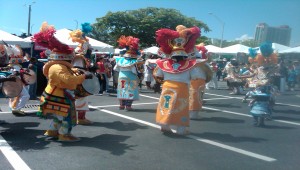 Although the leaves may not yet be changing in Miami, the fall season is quickly upon us. That means many exciting new art exhibits and cultural events in Miami's burgeoning arts community.

The Fall for the Arts Festival will preview all that the local arts scene has to offer this Sunday, Sept. 12, along with live musical performances, workshops and gourmet food in one concentrated area.

The Festival, co-hosted by the John S. and James L. Knight Foundation and Adrienne Arsht Center for the Performing Arts of Miami-Dade County, will take place in the open plaza of the Adrienne Arsht Center in Downtown Miami.

Over 100 arts and cultural organizations will showcase their calendar of events and exhibitions this season. These organizations will have staff on hand to discuss their fall offerings, volunteer opportunities and provide giveaways and prizes.

Miami has seen rapid growth of support and excitement for the arts over the years.
Dennis Scholl, vice president for the arts and Miami program director of the Knight Foundation, said "Miami is having a true cultural moment…Today, we have one of the country's top visual arts scene, a world-class ballet, a beautiful cultural arts center and much more."

Furthermore, Scholl said that the Knight Foundation believes that the arts bring the community's diverse residents together. "The Fall for the Arts Festival is a great example too – hundreds of people from a variety of neighborhoods will be enjoying the arts together downtown on Sunday," he said.

The Patricia and Phillip Frost Art Museum is one of the local arts organizations that will be represented on Sunday.

The Frost Director and Chief Curator Carol Damian said, "We are very happy to be part of this collaboration and looking forward to Sunday and seeing everyone – and a preview of what will be happening in the cultural community. I hope it will also help us to plan events that will not conflict with others… if that is possible."

In addition to giveaways, the Frost will be raffling a family membership to The Museum.

Two performance stages will feature several musical groups including Ozamatli and Jahfe, and DJ sets by El G (from ZZK Records) and Mr. Pauer. There will also be children's workshops for acting and breakdance, and several seminars on topics ranging form recruiting volunteers, jobs in the arts and partnering with corporations and business professionals.

For more information, visit: arshtcenter.org/fall.

Fall for the Arts Festival 

When: Sunday, Sept. 12
, 2010
Time: Noon to 6 p.m.
Where: Adrienne Arsht Center, 1300 Biscayne Blvd., Miami, FL
Admission: Free

Photo Credit: Alexandra Figueredo

© 2010, ArtistaMundo.com
To contact Alexandra Figueredo, the writer, please email her at alexandra@artistamundo.com.